When it comes to the safety and performance of plastic products, particularly nylon cable ties, understanding UL94 flammability ratings is important. Created and upheld by the U.S.-based safety certification company Underwriters Laboratories (UL), UL94 flammability offers invaluable test standards for a product's fire resistance.
What is the UL94 Flammability rating for cable ties?
The UL94 standard classifies plastic materials into different ratings, such as 94V-0, 94V-1, 94V-2, and 94HB, each achieved through specific testing methods. Their fire resistance ranking is 94V-0 > 94V-1 > 94V-2 > 94HB.
94HB
Slow burning on a horizontal specimen; the burning rate is less than 3mm per minute or stops before burning up to 100mm.
94V-2
In vertical burn tests, after the flame is extinguished, the specimen ceases to burn within 30 seconds; flaming drips are allowed to ignite cotton.
94V-1
Similar to V-2, the flaming drips are not allowed to ignite cotton.
94V-0
The specimen ceases to burn within 10 seconds after the flame is extinguished; flaming drips are not allowed to ignite cotton.
What is the UL94 Testing Process
Specimen Preparation: With five cable ties samples are needed for each flammability rating test.
Laboratory Preparation: Tests are conducted within a fire chamber, maintaining a temperature of 23°C±2°C, with relative humidity at 50%±5%. The lab is equipped with UL94 testing apparatus including a combustion chamber, adjustable gas flowmeter, ruler, and timer.
Ignition Test: The nylon cable tie is affixed to a vertical burn rack, placed centrally in the combustion chamber, and ignited for a measured duration.
Post-Ignition Observation: The burning behavior of the specimen is observed. If the sample self-extinguishes, the residual flame time is measured. Otherwise, combustion speed, flame height, and other parameters are recorded.
Second Ignition Test: The cable tie is ignited again, and the ignition duration is recorded.
Test Results: The ignition duration, residual flame time, combustion speed, and flame height of each sample are recorded. The average flammability rating is calculated based on these test results.
During the testing process, there are several key points that require careful attention:
Laboratory Environment and Sample Preparation: The laboratory conditions must be meticulously controlled to avoid any interference with the test results. Similarly, the preparation of the samples needs to be precise, adhering strictly to the size and quantity standards.
Recording of Ignition Duration: The duration of the initial ignition and the second ignition must be accurately recorded to ensure the reliability of the test results.
Observation of Sample Combustion: During the burning of the sample, it is essential to note changes in combustion speed and flame height.
Post-Test Analysis: Once testing concludes, each sample's flammability rating should be determined based on the test results, and an average flammability rating calculated.
Adherence to these steps ensures a thorough and precise flammability test, which in turn guarantees reliable ratings for the tested nylon cable ties.
Here are the UL 94 Flammability Rating Determination Criteria as Summarized by NIKE Plastic: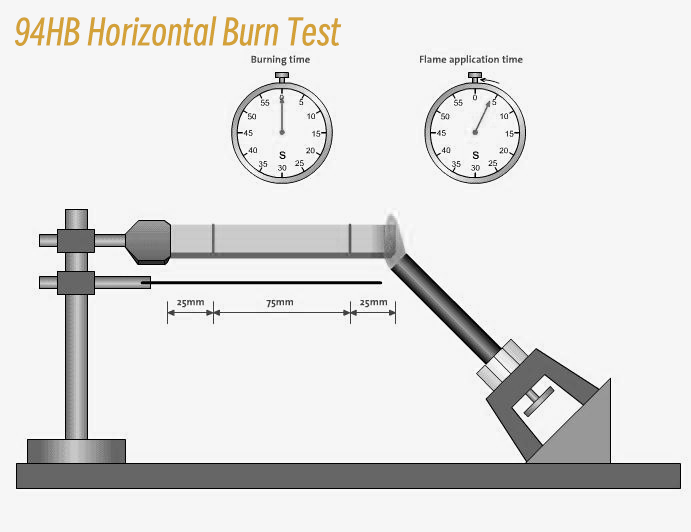 UL94 Horizontal Burn Tes
UL94 Vertical Burn Test
UL94 Horizontal Burn Test
UL94 Vertical Burn Test
Testing Procedure
HB
HB
V0
V1
V2
Number of Samples
3
3
5
5
5
Sample Thickness
<3mm
3mm to 13mm
≤13mm
≤13mm
≤13mm
First Flame Application Time
30s
30s
10s
10s
10s
Second Flame Application Time
–
–
10s
10s
10s
Flame Application Rate
≤75mm/min
≤40mm/min
–
–
–
Afterflame Time following First Flame Application
–
–
≤10s
≤30s
≤30s
Afterflame Time following Second Flame Application
–
–
≤30s
≤60s
≤60s
Total Afterflame Time for all samples after both first and second flame applications
–
–
≤50s
≤250s
≤250s
Continued Burning after Test Completion
Yes
Yes
No
No
No
Ignition of Cotton by Flaming Particles or Drips
–
–
No
No
Yes
Nylon Cable Tie Flammability Rating Test – UL94-V0, UL94-V1, UL94-V2, UL94HB —— NIKE Plastics Co., Ltd.
NIKE Plastic – A Leading Cable Tie Manufacturer
Here at NIKE Plastic, we are committed to addressing your varied needs. Apart from our standard nylon cable ties, our product line also extends to special cable ties such as flame-retardant cable ties and cold-weather cable ties. With a focus on versatility and quality, we aim to offer solutions tailored to your distinct requirements!