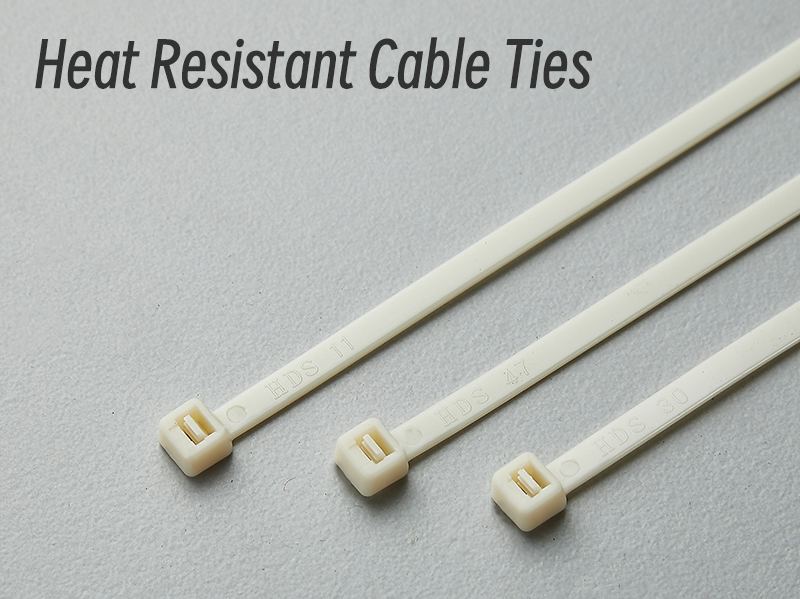 The question of "What's the maximum temperature heat-resistant cable ties can withstand?" is not purely academic; it bears on manufacturing efficiency, equipment safety, and even the smooth operation of an entire production line. In sectors like chemical engineering, aerospace, and automotive manufacturing, the high-temperature resistance of nylon cable ties is critical. This article by NIKE Plastic will guide you through what you need to know about heat-resistant cable ties, their attributes, and their industrial applications.
The Rise of Heat-Resistant Cable Tie
Since their debut in 1958, nylon cable ties have been a mainstay in industrial, commercial, and domestic applications, serving as convenient tools for bundling, supporting, and organizing cables and tubes. However, advancements in industrial operations and improvements in high-performance plastic materials have increased the demand for heat-resistant cable ties.
Materials for Heat-Resistant Cable Ties
1. Heat-Stabilized Nylon 66 (PA66HS)
Definition: PA66HS represents a specific variant of Nylon 66 (PA66), with 'HS' usually denoting 'Heat Stabilized.'
Characteristics: This type maintains its mechanical performance and dimensional stability at elevated temperatures, making it more reliable and durable. Standard PA66HS can function at temperatures up to 180°C.
Applications: Automotive, electronics, and industrial equipment.
2. Polyamide 46 (Nylon 46)
Definition: PA46 stands for Nylon 46, a unique type of nylon plastic primarily made from dimer diamine and adipic acid.
Characteristics: PA46 offers excellent mechanical properties and chemical stability at high temperatures, capable of working between 250°C to 280°C.
Applications: Automotive, electronics, and aerospace.
The Differences between PA66HS and PA46, and Which Should You Choose
| | | | |
| --- | --- | --- | --- |
| Attribute | PA66HS | PA46 | Notes |
| Melting Point | Approx. 260-270°C | Approx. 290-315°C | PA46 has a higher melting point, suitable for higher temperature applications |
| Tensile Strength | Approx. 75-85 MPa | Approx. 90-100 MPa | PA46 generally has a higher tensile strength |
| Impact Strength | Approx. 7-10 kJ/m² | Approx. 6-9 kJ/m² | Both have similar impact strength |
| Wear Resistance | Moderate | Excellent | PA46 has relatively better wear resistance |
| Water Absorption | Approx. 2-3% | Approx. 1.2-1.5% | PA46 has a lower water absorption rate |
| Cost | Lower | Higher | Costs can vary between different manufacturers |
The differences between PAHS & PA46
Overall, PA66HS is commonly used in general engineering applications requiring improved heat resistance (up to 180℃), while PA46 is suited for more specialized and demanding applications that require higher mechanical performance and can withstand even higher working temperatures (up to 280℃).
Conclusion
The maximum temperature a cable tie can withstand depends on its material. While regular nylon ties cap out at 85℃, heat-stabilized PA66 can function up to 180℃, and PA46 can work in temperatures as high as 280℃.
Choosing the right heat-resistant cable tie is a technical challenge and a business decision. Partnering with a professional cable tie manufacturer like NIKE Plastic not only assures the quality and performance of the product but also provides comprehensive support and services throughout the project's implementation.